Discover Exceptional Care at the Best Cancer Hospital in Vizag - CION Cancer Clinics

A cancer diagnosis can be a life-altering moment, not just for the person diagnosed but for their loved ones too. In such times, what matters the most is getting expert medical assistance. That is where CION Cancer Clinics, the best cancer hospital in Vizag, steps in to offer comprehensive cancer care, underpinned by an unwavering commitment to patient well-being.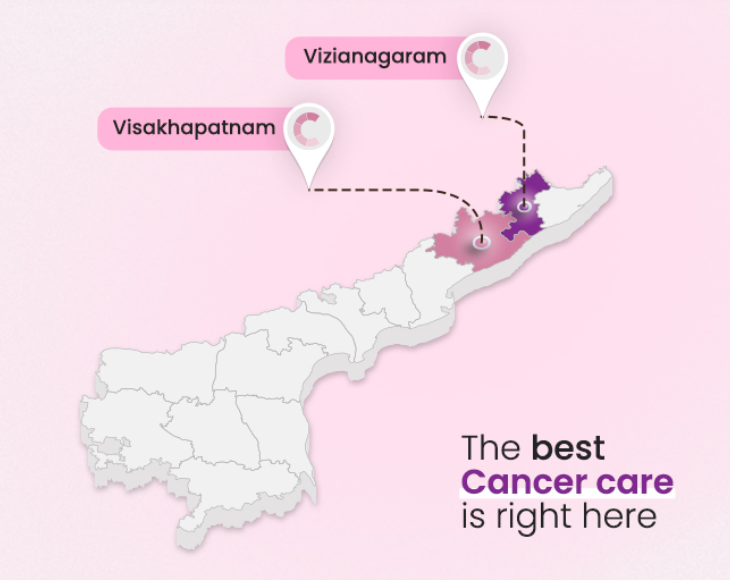 CION: Where Compassion Meets Expertise
What sets CION Cancer Clinics apart from other medical facilities is our holistic approach to patient care. At CION, the patient is at the centre of everything. The hospital offers free consultations, allowing patients to understand their diagnosis better, discuss their fears, and gain reassurance. This emphasis on communication puts CION Cancer Clinics ahead of the best cancer hospitals in Vizag. The hospital offers free consultations, allowing patients to discuss their condition, apprehensions and seek clarifications. We believe that patient knowledge and understanding are paramount to a successful treatment journey.
Free Consultation at the Best Cancer Hospital in Vizag
In the quest for the best cancer hospital in Vizag, CION Cancer Clinics is the solution you have been looking for, offering free consultation services. We understand that a cancer diagnosis can be daunting, so we offer free initial consultations to demystify the process and put your mind at ease. We provide comprehensive information about various cancer types, treatment options, and our unique approach to patient care.
Second Opinion by an Expert Group of Doctors
Making healthcare decisions, especially when it pertains to cancer, can be daunting. Get a second opinion from our expert group of doctors, ensuring you are well-informed about all possible treatment options. This second opinion can often be a game-changer, either by confirming the initial diagnosis or suggesting alternative treatment paths.
Free Breast Cancer Screening
As the best cancer hospital in Vizag, we are dedicated to curbing cancer at its roots. To this end, we offer free breast cancer screening services. Early detection is often the key to successful treatment, and regular screening can help identify cancer at its earliest stages.
A Team of Specialists at Your Service
With a joint online consultation from all three specialists, you can gain insights from different medical perspectives, ensuring a comprehensive understanding of your condition. It is our way to bring the combined knowledge of the best minds in oncology to your service.
Providing Emotional Support to Families
Cancer can be a hereditary disease. Hence, we offer free counselling for families at risk, providing them with critical information about preventative measures, early detection, and more. We believe that knowledge is power, and our counselling services aim to equip you with the tools necessary to combat this disease effectively. Also, we understand that cancer affects the entire family and not just the patient. Hence, we offer free counselling for families at risk of cancer, providing emotional support and guidance to help them cope with the situation.
Dedicated Coach Services for Hassle-free Processes
The convoluted nature of healthcare can be overwhelming to comprehend and navigate. At CION, the best cancer hospital in Vizag, we provide dedicated coaching services to streamline your experience. Our patient coaches help you understand the treatment process, manage appointments, and assist with paperwork, ensuring a hassle-free journey towards recovery.
Free Nutrition Services
CION Cancer Clinics believes proper nutrition is key to successful cancer treatment. These services aim to improve overall health and well-being by providing personalised dietary recommendations, meal planning assistance, and guidance on making nutritious choices within budget constraints. These services often involve consultations with trained professionals, such as registered dietitians, who specialise in addressing the specific nutritional needs and challenges cancer patients face.
Free Psychology Services
CION Cancer Clinics recognises the profound emotional and psychological impact of a cancer diagnosis, which is why they offer free psychology services to support the mental well-being of cancer patients throughout their journey. These services typically involve access to licensed psychologists or mental health professionals who specialise in oncology and are experienced in providing emotional support and coping strategies for patients facing the challenges of cancer.
The availability of free psychology services within cancer clinics highlights a holistic approach to cancer care, recognising the importance of addressing the psychological well-being of patients alongside their physical health needs.
Acceptance of Arogyashree and Central Government Schemes
CION Cancer Clinics is recognised as the best cancer hospital in Vizag, not just for its exceptional healthcare services but also for its dedication to making them accessible. With the acceptance of Arogyashree and Central Government schemes, we strive to bring quality healthcare within everyone's reach.
Choosing CION Cancer Clinics
In your fight against cancer, choose a partner who not only offers top-tier medical services but also compassionate care that makes your journey smoother. Choose the best cancer hospital in Vizag - CION Cancer Clinics. Visit CION Cancer Clinics today and embark on a journey towards better health and recovery. Together, let's win the battle against cancer.